200 yard range development photos click HERE.
Our primary focus is safety first.  The NZHA rifle range zero template rifle range. All projectiles must remain with the confines of the range and are trapped immediately behind the targets at all distances.  Safety features of the range are:
Hardwood overhead baffles spaced such that from the shooting bays NO sky can be seen down range; bullets can not be projected upwards out of the range.

Pea metal floor material able to catch and stop any and all projectiles in the unlikely event that they are not placed on target.

Steel roof spanning the entire width of the 100m back stop protruding sufficiently forward so as to guarantee no projectiles can escape from the end of the range.

Robust bullet catches at 25, 50 and 75m constructed of hard wearing steel materials able to withstand impacts from all calibres and contain the fall of shot.

Swing down barriers to prevent shooting while range users are forward of the firing positions and an electronically controlled gate limiting access to the range floor.
Another unique innovation to the NZHA rifle range is sound proofing and noise baffling.  Noise absorbing material is affixed to the inside of each shooting bay and separating the shooting bays from the preparation and equipment stowage area are three insulated walls complete with double 'glazed' sections for full visibility.  It is entirely possible (though not advised) to stand behind the sound baffling area without ear protection while high power rifles are being used and not be uncomfortable.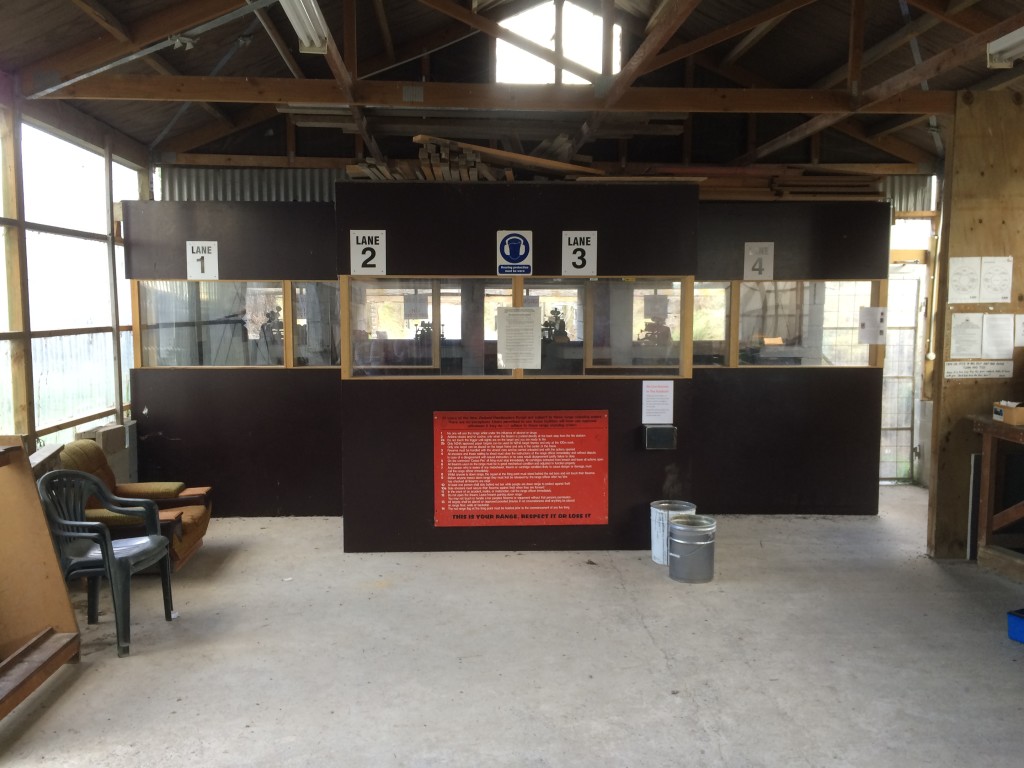 Speaking of comfort, our range has a dedicated Portocom with a kitchenette, table, seating, reading material and loading bench with press.  For those working up a load for a specific rifle they are able to prepare ammunition right at the shooting facility while enjoying the comforts of home.
The NZHA Rifle range is designed as a bench rested zeroing range.  The range is floodlit for night shooting and is open 24 hours per day, seven days a week for members.  Shooting is conducted from within four individual shooting bays located within a fully enclosed shelter.  The club owns benchrests and good quality spotting scopes for use by members.
A public range night is held every Tuesday night.  See the calendar for further details.